Maharani Lakshmi Bai College, affiliated to
Guru Jambheshwar University of Science and Technology Hisar
, Which A Haryana State Government University, Accredited 'A' Grade by NAAC Established by Haryana State Legislative Act No. 22 of 1995 & Recognised by UGC Act 1956 u/s 12-B & 2(F) has been founded by Pradhan Foundation, a registered Trust comprising scholars, educationists and professionals committed to empowering young girls from rural areas through education.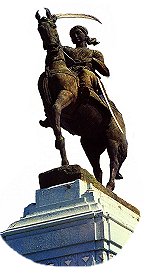 The lush green campus spreading in 7 acres of land is situated at  Bhiwani Rohilla,  Balsamand Road, Hisar, Haryana. It is a twenty-minute drive from Hisar covering a distance of 20 km. It has around 36 villages in its periphery and Maharani Lakshmi Bai College is the only college exclusively for girls. The majority of the girls from this area are unable to pursue higher education due to many socioeconomic factors applicable to girls for the sake of security and safety. Besides, the inhabitants are mostly small and marginal farmers who cannot afford to send the girls for higher education to a boarding institution.
Maharani Lakshmi Bai College has been established to fill this void. The location of the college facilitates girls from the surrounding areas to pursue higher education as day scholars with all safety and dignity. The institution being within easy reach, parents have no reservations about sending their daughters. The college has also arranged a fleet of buses for their safe plying.
The college has been named after Maharani Lakshmi Bai who continues to motivate women all over the country for her courage and scholarly attitude and aptitude. She was a scholar of Sanskrit and was familiar with the English language, besides being a warrior and capable leader.
Pradhan Foundation
'Pradhan Foundation', Hisar is a registered Trust with the main objective of imparting quality education to students of the rural areas among other social causes. Its first venture is successfully commenced with the opening of a degree college 'Maharani Lakshmi Bai College.' The college is located in a rural area of district Hisar, Haryana with the sole aim of empowerment of women through Higher Education. In its second venture, Maharani Lakshmi Bai Public School is established to facilitate quality education to explore and develop the rural potential.
Trustees
Pradhan Foundation was formed by following persons of different areas of expertise, academicians, professionals and business executives as its trustees sharing a common mind to the objectives.
Trust Member

Name

Qualifications

Designation

Sh.B.B. Pardhan

M.Com., M.B.A., A.C.S {Business Executive}

President

Ms.Seema Vats

M.A., B.Ed. {Educationist, Social Service}

Vice-President

Dr. Neelam Prabha

M.A., M.Lib., Ph.D. {Educationist}

Secretary

Dr. Shamim Sharma

{Educationist, Social worker, Writer}

Member

Ms. Arzoo Sharma

M.A. Psycho-analyst

Member

 
 Dr. V.K. Gupta
M.Sc.,Ph.D.
 Member
Dr Ashok Mittal
M. Com Ph.D
 Member
Sh. PL Sharma
Graduate
 Member
 Ms.Jasbir Kaur Sandhu
M.P.Ed.
 Member
 Mr.Som Dutt Sharma
B.E.
 Member
 Mr.Sunil Kaushik
B.A.
 Member